Our Curriculum
'Unleashing students potential through a meaningful and relatable curriculum, enabling them to learn and remember more'.
Each student arrives at Arco at a different level in their education, and so we work alongside them to develop an Individual Education Plan (IEP), based on their level and needs.
At Arco Academy, we are proud to say that we deliver an academic and pastoral curriculum which fundamentally addresses individual learning needs, focusing on key skills in literacy and numeracy.  
We combine this with learning in science and technology, creativity and culture, PE, and humanities throughout the curriculum. We strive to identify and address the gaps in students' learning and to structure the knowledge they develop sequentially, so that they acquire the foundations to embed it and to use it fluently.   
Our goal is to engage students in their education, so they develop their skills and confidence to reach their full potential and progress to further education, training or employment.   
Our experience has shown that our students come to us often for differing periods of time and reasons.  We have students that are with us for a short intervention period (a couple of days), others that stay beyond this for a couple of weeks pending assessment and review, and others that stay often six weeks (half a term) or longer. 
Our Curriculum Plans are therefore informed by a needs assessment prior to, and on, arrival at Arco to develop an Individual Educational Plan for that particular student.  The pastoral and welfare context of the student is crucial to this process of admission.  We place the student at the centre of this, with the parents / carers and host school.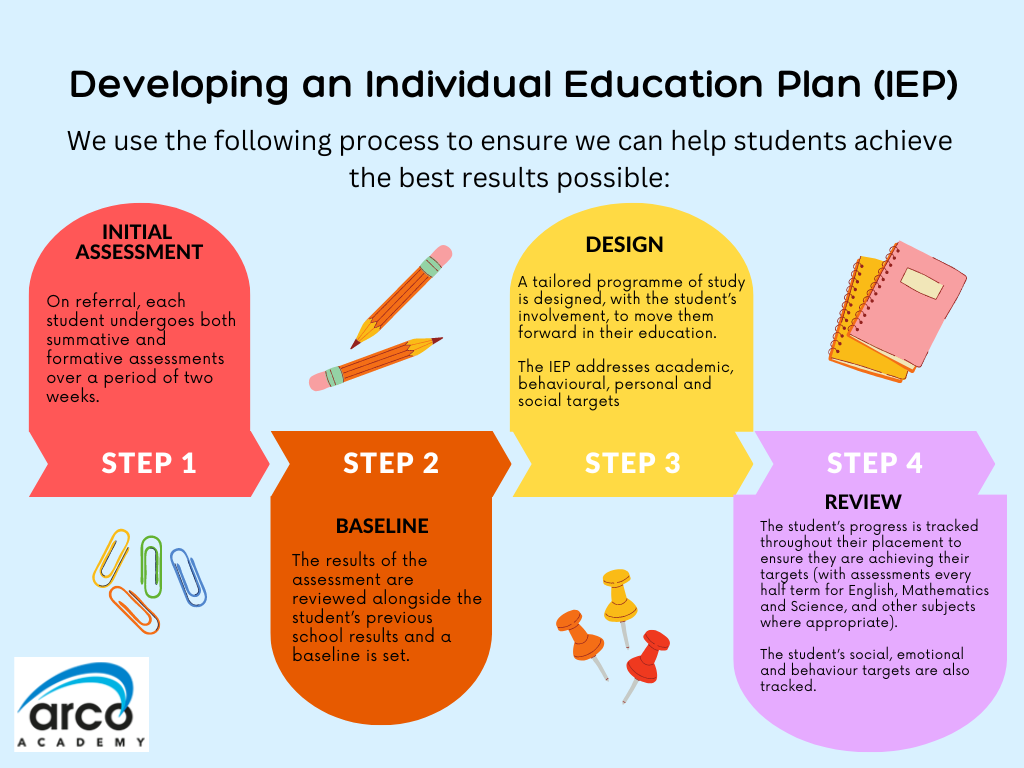 The subjects we deliver to Key Stage 3 and Key Stage 4 are in line with the national curriculum.
The curriculum is designed to meet the needs of all students within the Academy intake, stretching the most able and providing English language support for EAL learners.  We actively encourage students to enjoy their learning and develop lifelong skills which will support them as they move through the school and beyond. Our aim is to provide a curriculum which responds to the current needs and abilities of our students and is seen as relevant to their needs post-16. In order to achieve this, the curriculum is constantly evolving, and we aim for it to:
Be balanced, relevant and differentiated in order to enable students to make excellent progress.


Encourage resilience and mutual respect; promote Fundamental British Values (referred to as Arco Community Values) and the spiritual, moral, cultural, mental and physical development of all students.

Prepare students for the responsibilities and opportunities they will face in adult life.

Be delivered in ways which help students to develop a secure understanding of the subject and enable them to be creative, demonstrate independence, use their initiative, demonstrate perseverance and develop a love of learning.

Allow students to demonstrate excellent skills in literacy, oracy, numeracy and ICT.

Provide a seamless pathway through to education or employment at age 16.

Provide the opportunity for students to work at a pace best suited to their own needs.
To take a deep dive into the subjects we offer and our individual pathways, please go to our Curriculum Subjects page.
At Arco Academy, we are passionate about providing our students with access to as many opportunities as possible, and one of the ways we explore this is through our extra-curricular activities.
The clubs we are currently running enable students to learn valuable new skills, explore new ways of expressing themselves, engage in physical activity and catch up on any work they may not have been able to complete.
To find out more about the enrichment activities we are currently offering, as well as what we are planning to offer over the course of the year, please see our Clubs & Interventions page.