Arco Academy's Clubs and Interventions
At Arco, we believe that a broad and inspiring programme of extra-curricular activities can enrich and empower students during their academic careers. Our varied selection of clubs, interventions and opportunities encourage our students to learn new skills and gain further support in their academic pursuits.
At Arco Academy, we recognise the importance of the first meal of the day, which is why we invite all of our students to take part in our FREE Breakfast Club every morning between 9:00 am – 9:15 am, directly after registration.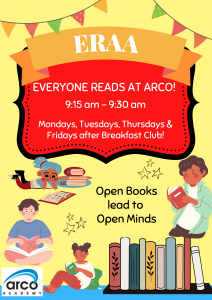 Just after Breakfast Club, all students will participate in our book club sessions Everyone Reads at Arco aka 'ERAA'. This is a daily activity to raise the importance of reading amongst children, and deepen the development of their literacy skills, as well as to nurture a love of escaping into a book.
At Arco Academy, we are passionate about providing our students with access to as many opportunities as possible. One of the ways we are able to explore this is through our extra-curricular activities.
The clubs we are currently running enable students to learn valuable new skills, explore new ways of expressing themselves, engage in physical activity and catch up on any work they may not have been able to complete during the school day or at home.
The current Enrichment Activities programme is as follows:
Activities will run from 3- 4pm, Mondays to Thursdays. The only exception is Music Club, which runs on a Thursday lunchtime from 12-12:30 pm.
Please note that if your child wishes to attend any of our enrichment activities, we will require a signed parental/carer consent form. This will be sent to you as part of your Induction pack.
We endeavour to make all clubs FREE.
Refreshments will be provided between 2:50- 3pm.
Year 11 After-School Interventions
Year 11 can be daunting, and sometimes students can find this time the most challenging of their school careers for many different reasons.
We recognise this and want to help take away some of the anxiety, so each year from Autumn term 2, we host our Year 11 Intervention Sessions.
We use this time to work on helping students to make rapid progress in their learning. Learners can work on strategies and techniques to improve their skill sets, as well as take the time to consolidate and reinforce the learning done in school.
Our results show that all students who have consistently attended our year 11 intervention classes have achieved their expected grades, and in some cases, surpassed them.
Based on this inevitable progress, we encourage students to commit to and attend all interventions.
Please note that we will require parental/carer consent for each intervention session; this form will have been sent to you in advance.
You can read more about the Intervention sessions on offer in more depth via the links below:
The Intervention Timetable: